About Live Well Chiropractic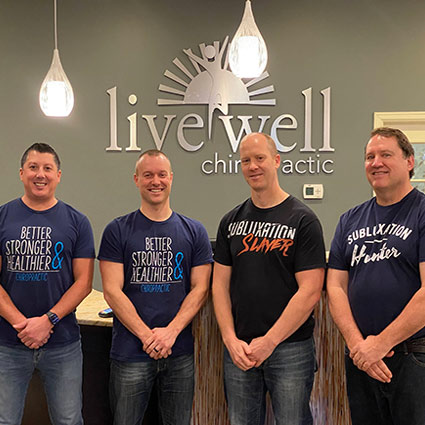 Our mission is to build healthier families through love, natural healing, and hope. We help restore the life force of the nervous system through gentle and effective chiropractic adjustments.
As holistic practitioners, we're also committed to supporting the body with nutritional counseling and promoting physical and mental release through massage. We'll educate you at every step, equipping you to expand your health and transform your life naturally.
MEET OUR TEAM

Comprehensive, Natural Health Care
Live Well Chiropractic is a revolutionary wellness center that helps generations of families break free from medication. Our healing environment radiates love and compassion. We build long-term relationships and provide outstanding customer service to get the best outcomes for everyone.
We view the body and health differently than the medical system. Getting out of pain is important, but true health goes much further than immediate relief. We help practice members optimize their total body wellness and take proactive steps to invest in their future well-being.
Healing for the Entire Family
Dr. Kris decided to found Live Well Chiropractic in his hometown community, where he grew up. He feels connected to the wholesome, hard-working people here. He wanted to bring a world-class wellness facility with the latest technology to the residents of Bedford and and help his neighbors thrive.
It's always a miracle to see practice members' joy when they do activities they never thought possible. Over the years, we've helped people of every age, including:
Women trying to become pregnant
Babies with colic and digestive issues
Kids with poor immune systems and attention problems
Athletes wanting to recover and enhance their fitness
Adults needing an alternative to stress and medication
Seniors hoping to stay independent and improve their quality of life
Restore Your Health Naturally
Our holistic care puts your needs first as we help you achieve your health goals. Contact us to schedule now.
---
About Live Well Chiropractic | (814) 624-0606