PEMF Therapy at Live Well Chiropractic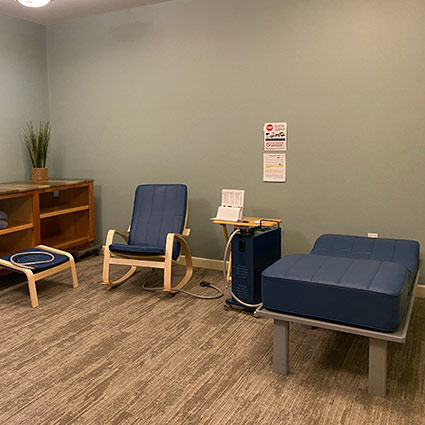 If you're in pain or want to heal from chronic conditions, we have what it takes to help your body heal. As a comprehensive wellness clinic, we provide a wide range of healing services to help you recover from every angle.
At Live Well Chiropractic, we offer Pulsed Electromagnetic Field (PEMF) Therapy as the perfect complement to chiropractic care. By stimulating stem cell production, this service helps your body generate healthier and younger cells. This advanced and easy-to-use technology can take your health to the next level as it helps you heal from head to toe.
Benefits of PEMF
This safe, non-invasive technique has been used in Europe for over 75 years. Through this service, healing happens at a cellular level. As your cells detox and gain more energy, your body heals damaged tissues naturally. This process can decrease inflammation in joints, muscles, tendons, and organs, leading to whole-body wellness.
For 40 years, PEMF has been FDA approved as a gentle solution for bone problems, depression, brain cancer, and pain. There is also clinical research suggesting it can increase energy, improve sleep, repair joints, boost blood flow, ease digestive problems, promote relaxation, and decrease anxiety.
Patient Testimonials
PEMF has improved my sleep and calms my stress.

I had no energy, was overweight and didn't like myself. Now I have energy to participate in activities, travel and a lot less aches and pains. I'm looking forward to new things all the time!

I was slowing down with back and neck pain and headaches. I'm sleeping better and deeper, moving better and have less headaches! Everyone should try it!

I had awful headaches, backaches and sleepless nights left me feeling edgy and irritable. I'm able to do more throughout the day and feel less tired.

I'm able to do my work with less pain & I am able to sleep more comfortably.

I am physically stronger and can work for longer periods of time. My bloodwork has improved. I've lost weight and inches!

PEMF has helped me a lot. It has made me calmer and relaxed the pain in my hips. It's very relaxing!

Before Live Well, I had 30 years of pain and was nearly disabled. I feel much better! It works! Live Well is a great place with great people!

I've lost 30lbs with my chiropractic care and PEMF therapy. I have zero knee pain, no digestion issues and Live Well is my social outing. It works!!
PEMF Therapy Videos
How It Works
PEMF uses electrical energy to direct a series of magnetic pulses through injured tissue. Each magnetic pulse sends a tiny electrical signal to stimulate cell repair.
Think of PEMF as a battery charger for your cells. Once your cells' voltage drops, they can no longer heal and become dysfunctional. By inducing a mild magnetic current into damaged cells, this therapy slows or stops the release of pain and inflammatory mediators. increases blood flow of the cells and re-establishes normal cell interaction.
---
PEMF Therapy Bedford PA | (814) 624-0606