Massage Therapy at Live Well Chiropractic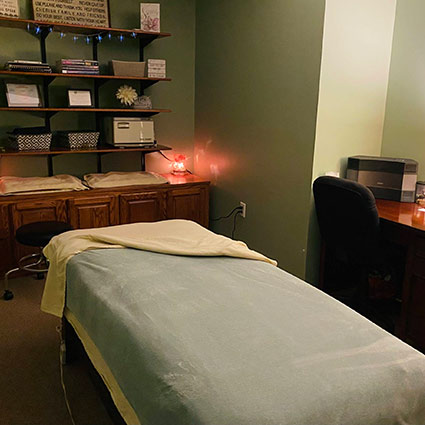 Massage therapy uses muscle work to relieve physical tension and improve your whole-body health. Anyone who is stressed or has sore muscles can benefit from this service. Many practice members choose to get a massage before their adjustment to maximize their health benefits.
Bringing You to Comfort & Wellness
At Live Well Chiropractic, we specialize in Swedish massage, salt stone, reflexology, and pregnancy care. Massage therapist Suzanne Marisic combines comfort with healing as she tailors her approach to your needs. We make wellness easy. Just come in comfortable clothing, and let us take care of the rest. Our goal is to help you relax your body and your mind so you leave feeling incredible every time.
Techniques We Offer
We offer various techniques, including:
Swedish Massage: This full-body approach uses light to medium pressure on the outer layers of muscle. We recommend this method for anyone who needs to relax, relieve tense muscles, or improve circulation.
Deep Tissue: This slow and focused approach targets specific structures of muscles and fascia that need an extra healing touch.
Therapeutic Massage: We can incorporate a wide variety of techniques into a customized session designed to enhance your body's ability to restore itself.
Myofascial Release: By applying gentle, sustained pressure to restricted tissues, we can help reduce pain and restore motion.
Cupping: This traditional therapy creates suction and negative pressure as we move cups over affected muscles. We use this technique to soften tight muscles, loosen adhesions, lift connective tissue, and bring blood flow back into the skin and muscles.
Ice Packs: Depending on your needs, we may incorporate ice packs to reduce inflammation and swelling. This simple strategy can also numb sore muscles, providing pain relief.
Relax Your Way Into Wellness Now
Our goal is to care for every practice member's mind, body, and emotions by helping you rest so your body can heal. Schedule your first appointment today.
CONTACT US
---
Massage Therapy Bedford PA | (814) 624-0606