Meet the Team at Live Well Chiropractic
Get to Know Us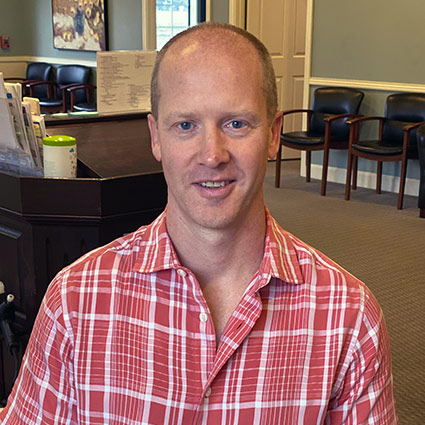 Dr. Kris Arnold, Owner and Clinic Director
Live Well Chiropractic's sole purpose is to provide the best wellness care for you and your family. Dr. Kris was born and raised right here in Bedford County on a family farm. He always had a desire to help other people so he chose to learn one of the most natural forms of health care, chiropractic. He graduated from Parker College of Chiropractic in 2000 and returned home to set up his office in the Bedford area.
Since day one he has had a positive response from the community because of his unique style. Dr. Kris's chiropractic adjustments are gentle, relaxing and some people even fall asleep. He has a high tech approach to find the underlying cause of health concerns by using computer scans that detect stress in your nervous system. He also takes a wellness approach to health where he not only helps a person get healthy but also provides education on how to stay healthy for a lifetime.
Dr. Kris says, 'I am excited to go to the office everyday because of the amazing miracles that happen there every day. People getting off medication, women getting pregnant, sinuses and allergies clearing up, digestion and immunity improving, kids doing better in school, increased energy, and people simply being happier and healthier.'
Dr. Kris has been happily married to his wife Tina since 2000 and together they have three children; Olivia, Isaac and Sophia.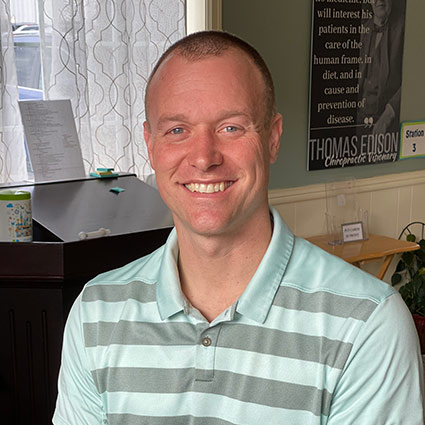 Dr. Jason Stephens, Pediatric and
Family Health Director
Dr. Jason was born and raised in Bakers Summit in Bedford County, PA. He attended Northern Bedford High School, Lock Haven University and graduated from New York Chiropractic College in 2006. Dr. Jason has always been interested in health and wellness. When he was in high school, his mother started going to a chiropractor to help with her scoliosis. This helped him decide that the natural approach to health was the way he wanted to go.
He has enjoyed learning about nutrition and whole food supplements to aid chiropractic adjustment and build a healthy foundation. He has also studied numerous low force adjusting and soft tissue techniques that are very gentle and relaxing for the patient. Dr. Jason resides in Duncansville with his wife, Crystal. His wife is also a chiropractor who practices in Altoona. They have a son, Mason, and a daughter Vada. In his free time, he enjoys spending time with his family, hunting, downhill skiing, working in their organic garden, and watching and playing sports.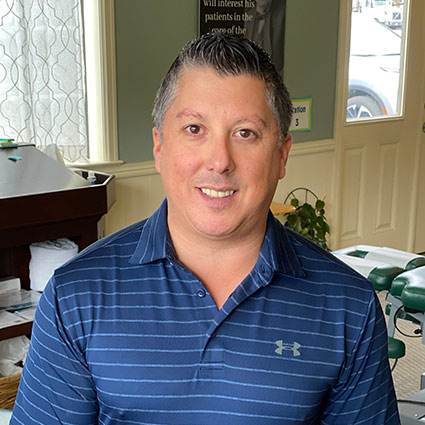 Dr. Randy Tabita, Wellness Director
I was born in beautiful Latrobe, PA and grew up a pretty active child. I played ice hockey and baseball starting at age 5, had my share of injuries and suffered from frequent headaches early on. The medication I was taking did not prevent my headaches from returning. My parents took me to a chiropractor to see if he could help. After an evaluation, he discovered that my neck was not aligned properly and adjusted it. I did not have a headache for a week after that. After a few more treatments, my headaches resolved completely. It was life changing for me!
My parents were in the healthcare field, so I have always had an interest in the human body and how it worked. In 2001, I moved to Atlanta, Georgia and attended Life University where I studied Biology. In 2003, I was accepted into their chiropractic program and graduated in 2007. While in chiropractic school, I specialized in posture, biomechanics and rehabilitation of the spine. I was president of the Chiropractic Biophysics Club where I taught fellow students the science of how different forces affect the structure and function of the body. In 2007, I worked for a sports chiropractor where we treated athletes and families of all ages.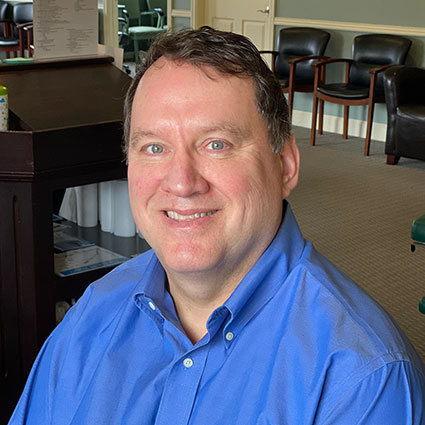 Dr. Paul Kohler, Family and Sports Chiropractor
Dr. Paul grew up in the South Hills area of Pittsburgh. After an auto accident he was introduced to chiropractic and found it life changing. He gave up
his job and company car and proceeded to pursue his chiropractic studies. While getting his prerequisite work for chiropractic school he met his wife Donna.
Dr. Paul attended New York Chiropractic College and opened a family/sports practice near his hometown. During that time he continued his chiropractic studies and became a Certified Chiropractic Sports Physician.
Dr. Paul loves to watch and participate in sports. His first football game happened to be the one with "The Immaculate Reception". He has been a big football fan ever since. These days he follows the Steelers and Alabama (all 3 of his kids have graduated) and participates in fantasy football. He practiced martial arts for over 13 years and has a Black Belt in mixed martial arts.
In his spare time, Dr. Paul likes hiking, biking, camping, working out and spending time with his dog and family.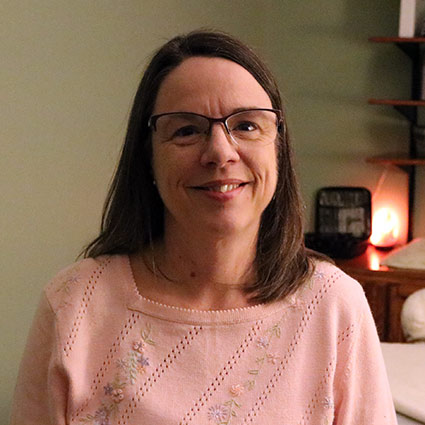 Suzanne Marisic, Massage Therapist
Suzanne, a graduate of Pittsburgh School of Massage Therapy, studied Swedish massage, neuromuscular therapy, myofascial release, and salt stone massage. She also had courses in aromatherapy, hydrotherapy, reflexology, and sports massage where she had the opportunity to work with the Steelers during their training camp.
Suzanne has always believed that the body has the ability to heal itself and
massage therapy
is one of many paths to health and wellness. Her intention is to create a safe and judgment free environment to improve and maintain your health; mentally, physically, and spiritually. Being passionate about the positive effects massage therapy has on the mind and body, she will create a session that will suit your specific needs to get the best results.
She was born and raised in Bedford County and has 2 grown children, Ben and Morgan. She enjoys spending time with family and friends, being outdoors, and dreaming about her next adventure.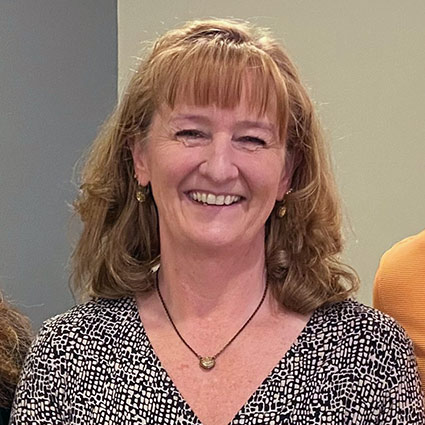 Julie Barnhouse, Nutrition Coach
Since joining Live Well Chiropractic, Julie has made a name for herself in helping patients lose weight in a sensible and sustainable way. She has a personal reason why she is so passionate about helping others with their weight struggles.
"I struggled with weight all my life. I have tried so many diets, just to fail and gain it all back. Over a year ago my son inspired me into getting strong and losing weight, the right way this time. Fifty pounds later and with much improved blood work, I feel so much better, and I know this a way of life not just a yo-yo diet," said Julie.
Julie decided she wanted to help others reach their health goals. There is so much information out there, and lots of times, it makes no sense. Julie used evidence-based science to ensure she was optimizing her and other's efforts towards balanced health.
Julie commented "I am here at Live Well to help others that have struggled like me. Whether to lose weight, eat better, get more active, or improve your metabolic markers (blood tests), I can help you sort through the information and guide you along an individualized program designed just for you."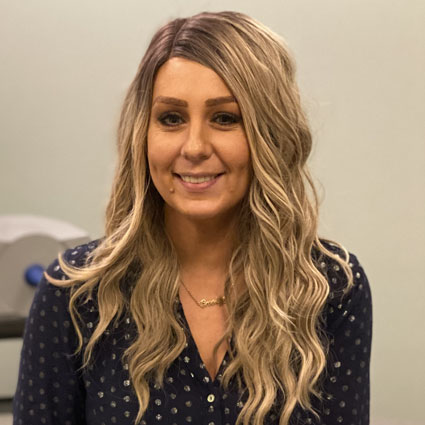 Erin Dennis, Regenerative Therapist and Wellness Center Manager
Erin loves helping and connecting with Live Well Chiropractic patients. She is so excited to see patients do things that they never thought they would be able to do again! Erin is trained in Pulsed Electromagnetic Field therapy along with S-wave, a non-invasive regenerative therapy that accelerates healing in as little as 3 sessions. It utilizes high-energy acoustic waves to promote healing and repair of a wide range of musculoskeletal conditions and chronic pain.
---
Meet the Team at Live Well Chiropractic | (814) 624-0606